Tabs on tabs on tabs…
I moved in across the street from One Stop Beer Shop, a bar and kitchen in Brooklyn, in 2012 and acquired them as a design client a couple of years later. Over the course of a few years, I designed their coasters, matchbooks, event fliers, and eventually, this completely custom menu layout and board.
Hugh Ashcraft, the bar manager at the time, wanted something unique and easily editable to keep up with their rotating tap list and changes in food items.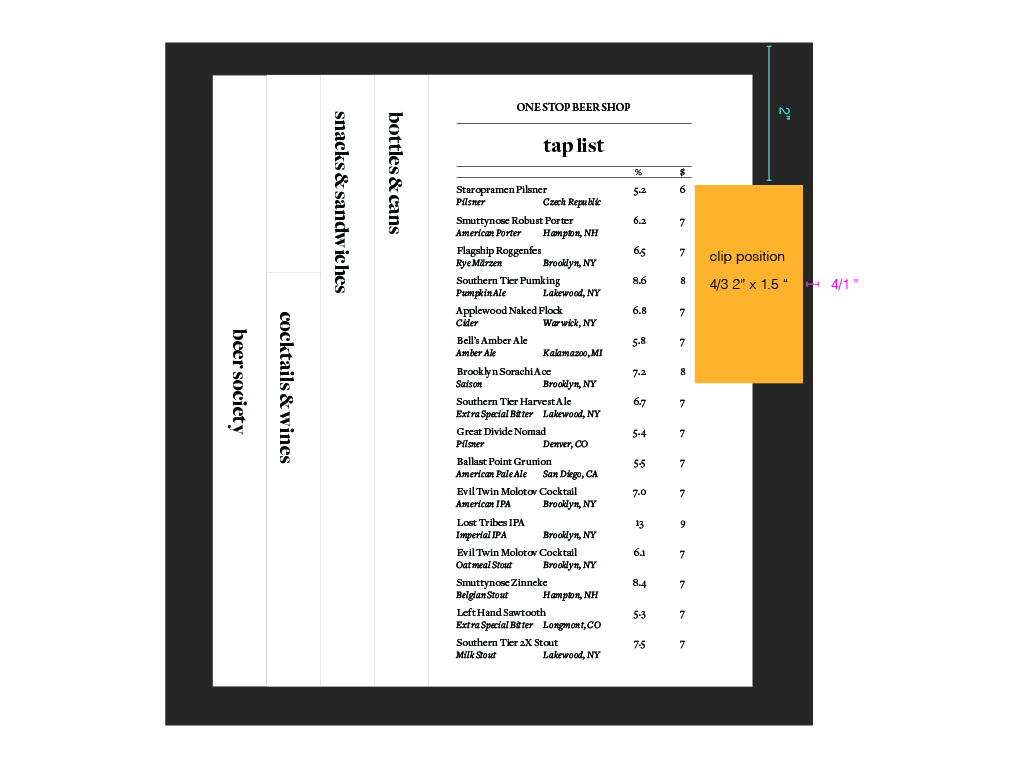 A tabbed layout was the solution to being able to easily flip to what you had a hankering for. Bars get dark and eyes get wobbly in them. The clarity helped. The rotating tap list was placed at the front and I sized and formatted it so that two copies could be printed on a single, letter-sized sheet with no excess. I ordered the vintage clips from an Etsy store and sourced synthetic water and grease-resistant paper for the production. It was not, however, stain proof, and the menus were eventually ringed with wine and dark beer glass stains that added to the aesthetic. I used multiple weights from the Freight font family in different scales throughout the menu.
Together, Hugh and I we went to Home Depot and bought the wood to make the boards. Hugh cut the pieces to the designed size and sanded and stained them with the help of another neighborhood regular. It became a community project.
New management later swapped out the clipboards for a standard slip case.
The layout is still currently in use.